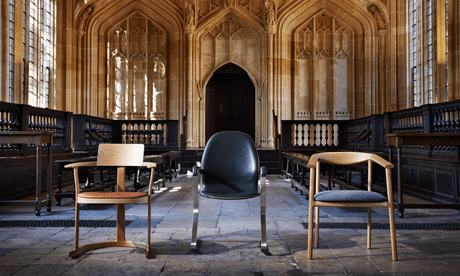 The Bodleian Library at Oxford needs new chairs,
and has commissioned designs. Above are the three finalists. Like the author of that
Guardian
report, I strongly prefer the
Barber Osgerby
design on the left. It's a classically modernist shape, but with traditionalist elements I think will harmonize with its surroundings.
I post this as another installment in my ongoing love letter to libraries. Libraries need seats that people will want to sit in, and while big soft chairs are especially desirable for people who just want to read, there's still a need for good desk chairs to suit those occasions when one must summon all the research and do some serious typing — or even serious underlining and annotating. I could see myself getting good work done in that Barber Osgerby chair.